Joseph Baxter | June 23, 2020 |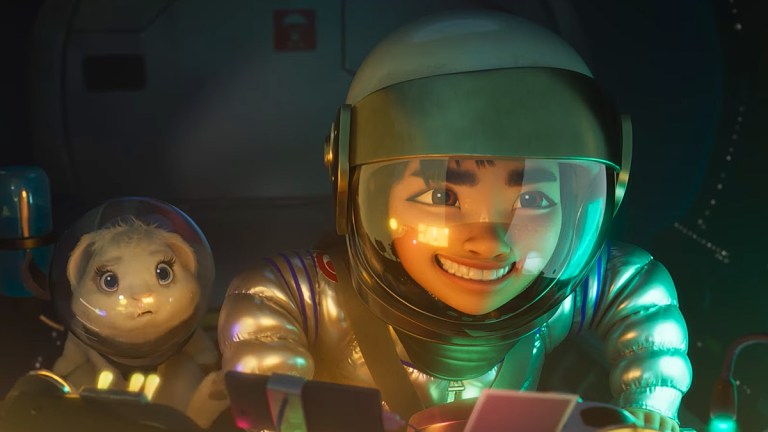 Photo: Netflix
Over the Moon, an animated feature headed to Netflix, has released its first trailer, which showcases an aesthetically impressive, awe-inspiring tale of wonder that's out to prove that Disney+ isn't the only place on which its genre flourishes.
The film focuses on the exploits of a young Asian-American girl, who—having been entranced by a myth about a goddess who accidentally floated away from her true love to be exiled on the moon—embarks on a cosmic endeavor of building a rocket for a lunar visit of her own. Despite the problematic practicalities of its plot mechanics, Over the Moon appears destined to become a family-aimed crowd-pleaser, and also serves as valuable representation for a demographic that's infrequently set in a protagonist capacity in Western features.
On that note, do check out the trailer for Over the Moon just below!
The representation aspect of Over the Moon is also prominently reflected in its voice cast, which consists of an impressive lineup of Asian-American actors such as Cathy Ang, Phillipa Soo, Robert G. Chiu, Ken Jeong, John Cho, Ruthie Ann Miles, Margaret Cho, Kimiko Glenn, Artt Butler and Sandra Oh. Based on the family dynamic on display in the trailer, the film seems to showcase representation that's eloquently subtle (not ham-handed and self-congratulatory), while widely-identifiable, perhaps akin to Disney's 2014 smash hit, Big Hero 6, which poignantly focused on the ordeal of boy genius protagonist Hiro Hamada, who's joined by a diverse lineup of friends.    
Ad
Ad – content continues below
Interestingly, another notable narrative about Over the Moon is the identity of its director, Glen Keane, who fields a long-in-the-making feature directorial debut here. Indeed, despite this being his first time in the big chair, Keane brings nearly 50 years' worth of experience as an animator from a what's-what list of iconic features such as Disney offerings Tarzan, Pocahontas, Beauty and the Beast, The Little Mermaid, Oliver & Company, The Black Cauldron, The Fox and the Hound, The Rescuers, Pete's Dragon and—in an impressive topical divergence—even 1973-1974's Star Trek: The Animated Series. The animation legend worked here off a screenplay finalized by Jennifer Yee McDevitt (Pittsburgh Passion), who completed the work of originally-set scribe Audrey Wells (The Hate U Give), who passed away back in October 2018.
Over the Moon, a production of Netflix, Janet Yang Productions and Pearl Studio, will ultimately join an existing lineup of original animated features (in addition to the licensed ones,) on Netflix consisting of films such as Klaus, A Shaun the Sheep Movie: Farmageddon, Invader Zim: Enter the Florpus, I Lost My Body, Flavors of Youth, Godzilla: Planet of the Monsters,  Pachamama, Next Gen and White Fang. Moreover, said lineup will be joined by the exclusive acquisition of long-awaited sequel Chicken Run 2, which was just announced on the 20th anniversary of the original's release. Sure, it may not be the embarrassment of animated IP riches of Disney+, but it's nothing to scoff at for any discerning parent or adult animation enthusiast.
Over the Moon Release Date
Ad
Over the Moon doesn't have a specific release date to cite as of yet, but Netflix is teasing a fall arrival on the streaming platform.