Alec Bojalad | March 22, 2021 |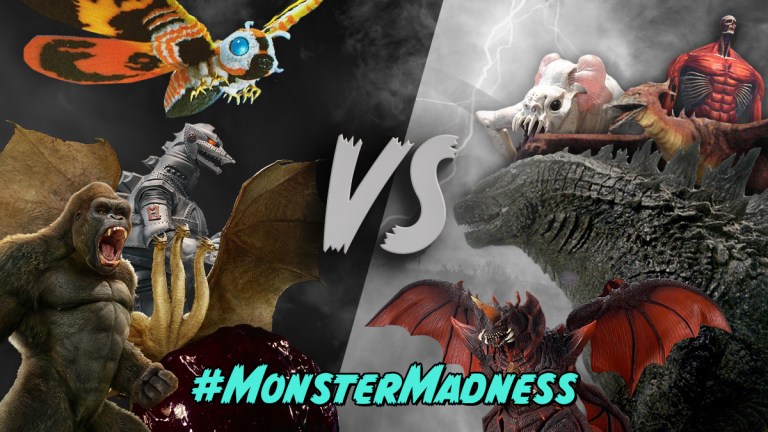 Photo: art by Jessica Koynock
Every season is monster season in our hearts. But this March is a particularly good time to celebrate our enormous, scaly, and/or hairy friends. In the film world, the long-awaited Godzilla v. Kong arrives on March 31 (on HBO Max. It will premiere in theaters in March 24 internationally). Meanwhile on television, behemoth anime Attack on Titan is in the midst of its final season right now. Given that many of us are already primed for bracketology in March, we decided to create a bracket of our 32 favorite monsters for you, the monster-lover, to vote on.
In honor of Godzilla, Kong, and Attack on Titan's many titans, we're electing only to include kaiju-style monsters on this bracket. All of these monsters must A. be their own distinct individual (not a species like "cave trolls" or "aliens") and B. be able to knock down a building (or at least cause catastrophic structural damage). That's why you won't see any Universal-style monsters (Frankenstein, Dracula, et. al) on our list.
If you're unfamiliar with how a bracket works, never fear – each round we will present monster matchups one-by-one for you to vote on via our Twitter and within this post. The rules here are simple: peruse our list of 16 matchups and vote for your favorite monster. And whether "favorite" means "which monster would win in a fight" or "which monster I like the most" is up to you.
You can vote over at Den of Geek's Twitter or within this post.
Ad
Ad – content continues below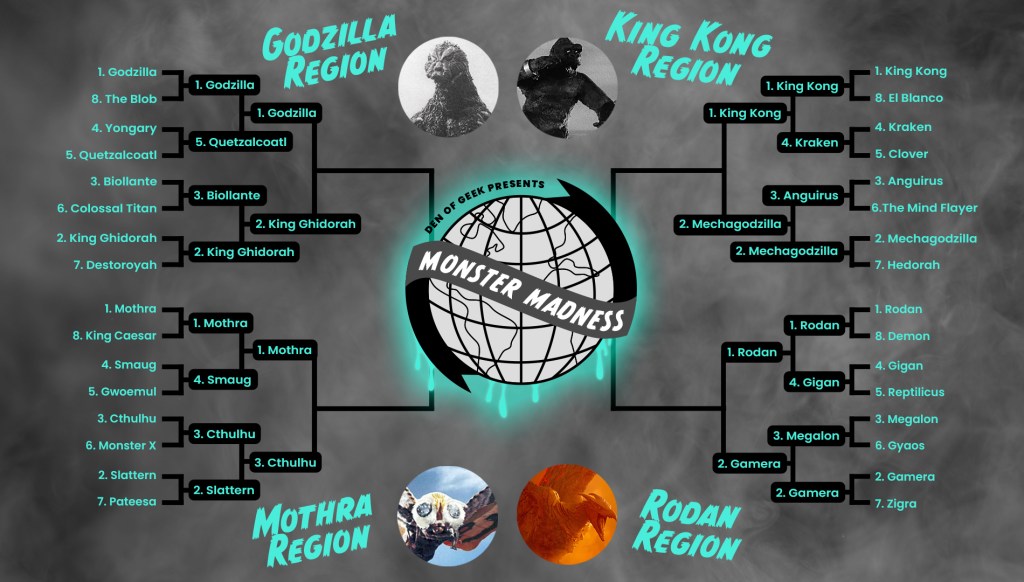 Whichever monster receives the most votes will advance to the next round to face another victorious monster. This will lead to five total rounds with round 1 featuring 32 monsters, round 2 having 16, round 3 having 8, round 4 having 4, and round 5 having 2. The full voting schedule will be as follows:
Round 1 (32 monsters) – Voting Opens March 15
Round 2 (16 monsters) – Voting Opens March 18
Round 3 (8 monsters) – Voting Opens March 22
Round 4 (4 monsters) – Voting Opens March 25
Round 5 (2 monsters) – Voting Opens March 29
Results – March 31
With the monster rules and arena set, let's get into the round 3 matchups!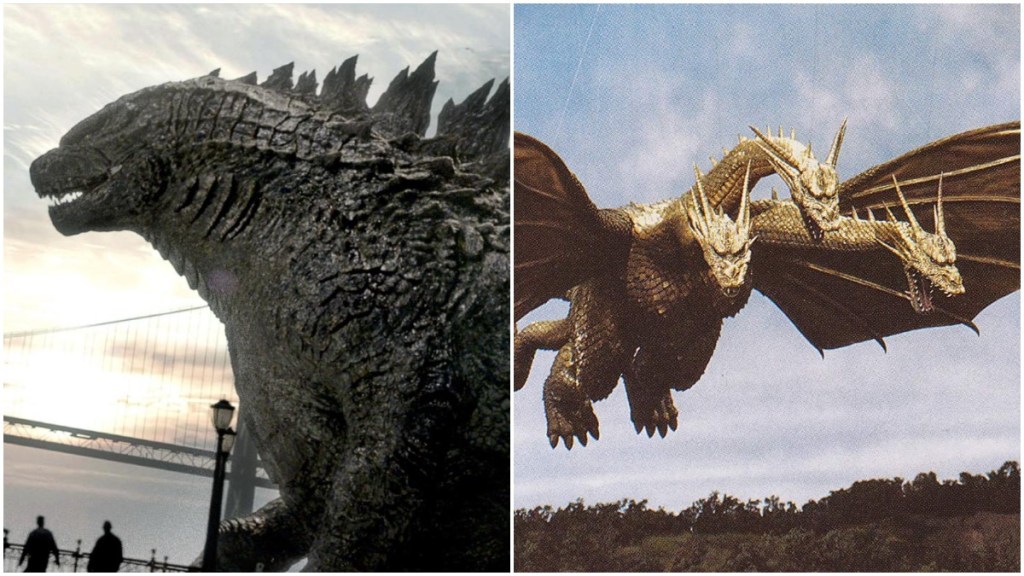 1. Godzilla vs. 2. King Ghidorah
Let's be honest here. So far in this tournament, Godzilla's skills have yet to be really tested. El Blanco? Cakewalk. Quetzalcoatl? Quetzal-who? That should all change, however, in round three when the presumed King of Monsters takes on King Ghidorah. Ghidorah has also had no issues in taking down lesser foes. One would think Godzilla should prove challenging, but on paper, these two reptilians seem pretty well matched. This is our first 1-2 matchup and it looks to be a good one.
Round 3 (Matchup 1/4): Godzilla vs. King Ghidorah! #MonsterMadness
— Den of Geek News! (@DenofGeekUS) March 22, 2021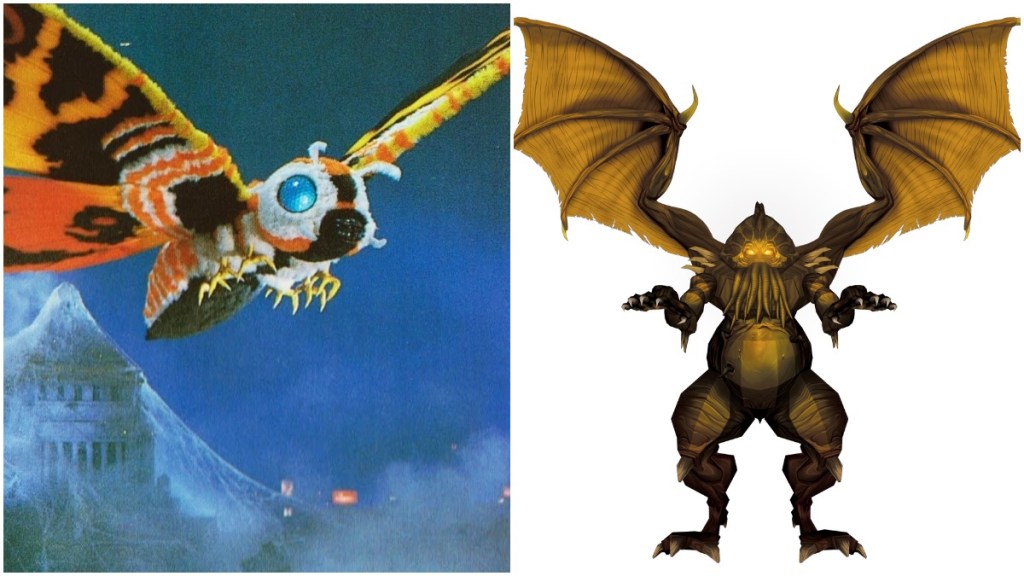 1. Mothra vs. 3. Cthulhu
For nearly the entirety of round 2, it seemed one-seed Mothra was done for. The Hobbit's Smaug had this moth on the ropes. But in the end, the fuzzy kaiju came through, just like she always seems to. Round 3 will prove to be an even harder challenge though. Cthulhu is the only three seed to make the Elite Eight and he did so in dominating fashion. Pacific Rim's Slattern stood no chance. Cthulhu may even be favored in this 1-3 matchup, but we'll see how it all pans out. 
Round 3 (Matchup 2/4): Mothra vs. Cthulhu! #MonsterMadness
— Den of Geek News! (@DenofGeekUS) March 22, 2021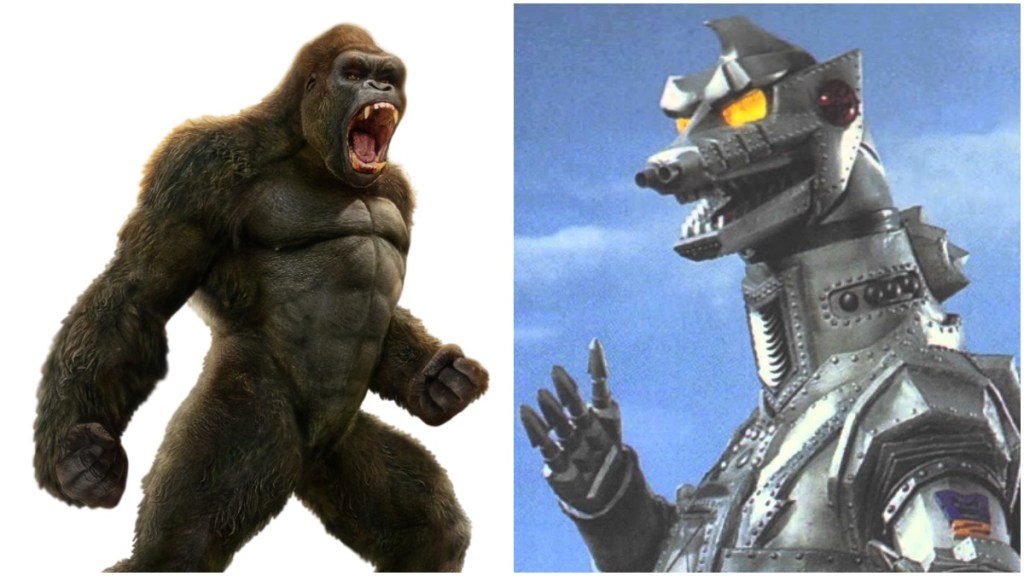 1. King Kong vs. 2. Mechagodzilla
Talk about two monsters who really want a shot at Godzilla. The winner of King Kong v. Mechagodzilla will be in the Final Four, and therefore be one step closer to taking on their ultimate rival. First, however, they must face each other. Kong had some trouble against The Kraken but was able to overcome the beast in the end. Mechagodzilla thus far seems to have not even broken a sweat…presuming mecha lizards can sweat. Who will win this surprisingly balanced matchup? You decide!
Round 3 (Matchup 3/4): King Kong vs. Mechagodzilla! #MonsterMadness
— Den of Geek News! (@DenofGeekUS) March 22, 2021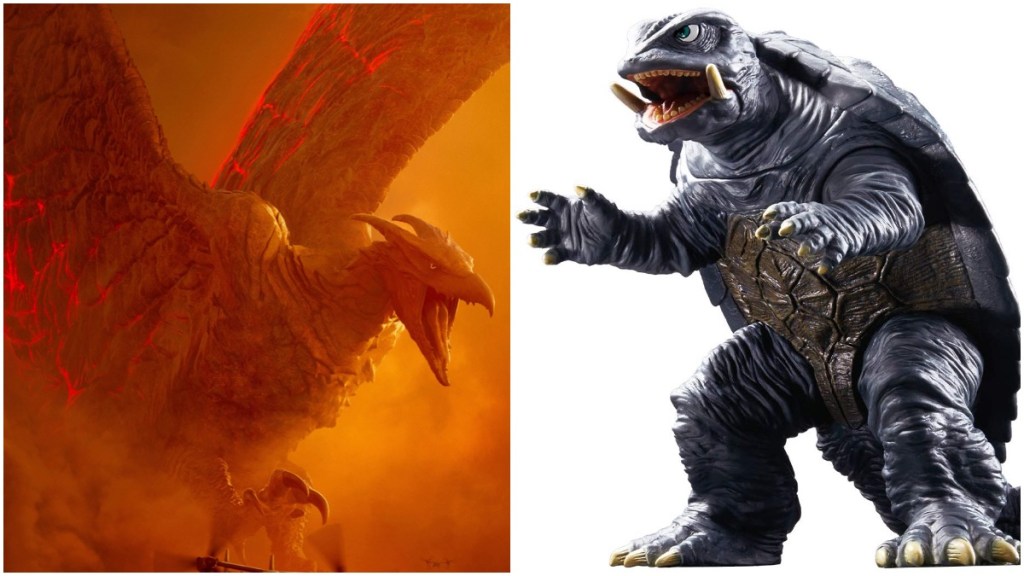 1. Rodan vs. 2. Gamera
The Rodan region of this bracket is not the sexiest, but it still has some great monsters. Case in point is this sturdy 1-2 matchup between Rodan and Gamera. Both monsters were the clear favorites from the region and here they are now playing each other for a Final Four spot. It's hard to say, who's even favored at this point. Rodan's wings are always helpful, sure. But Gamera's shell and pluck have got him this far.
Ad
Ad – content continues below
Round 3 (Matchup 4/4): Rodan vs. Gamera!
Make sure you cast your votes by 1:15pm ET March 23rd — Round 4 (our #FinalFour) starts on Thursday the 25th!
Full set of rules & bracket here: https://t.co/2ijUqKSBq1 #MonsterMadness
— Den of Geek News! (@DenofGeekUS) March 22, 2021